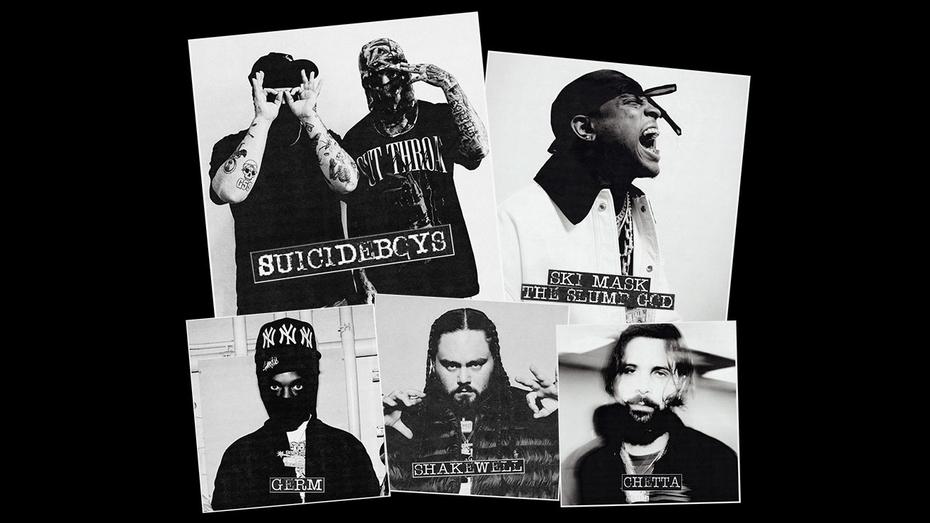 DATE AND VENUE
Tuesday, 28.03.2023
COS Torwar, Warsaw
| | |
| --- | --- |
| 17:30 | Early Entrance |
| 18:00 | otwarcie drzwi |
| 18:45 | DJ SCHEME |
| 19:10 | CHETTA |
| 19:30 | SHAKEWELL |
| 19:55 | GERM |
| 20:25 | SKI MASK |
| 21:15 | $uicideboy$ |
TICKETS
The official seller of tickets for concert is eBilet.pl. We recommend you to buy tickets from official sources only. By purchasing a ticket outside the official outlet network, you risk to buy a forged ticket and therefore may not be admitted to the Event. We remind you that the purchased tickets should not be made available to third parties, in particular the barcode on the ticket, so as to prevent it from being copied, photographed or duplicated in any other form.
Due to the state of epidemic threat announced in Poland, the Organizer informs, that in order to counter the spread of SARS-CoV-2 virus, in accordance to the Polish law, as well as guidelines and recommendations from proper administrative bodies, the Attendees may be obliged to carry means of personal protection (specified in currently valid laws, guidelines and recommendations) at the event site, as well as obey the warrants, prohibitions, and restrictions in force.
Information on the conditions of attending the event, as well as the currently valid rules of conduct will be available at www.alterart.pl 7 days before the Event at the latest. The Information may change.
The Attendee is obliged to get acquainted with the currently valid rules of conduct and conditions of attendance, as well as the Terms And Conditions of the Event.
TICKETS:
Limitowana przedsprzedaż rozpocznie się w środę, 4 stycznia o 15:00. Chcesz wziąć udział w przedsprzedaży? Zapisz się do newslettera AlterArt już teraz: www.alterart.pl/newsletter
Otwarta sprzedaż biletów na wydarzenie startuje w czwartek, 5 stycznia o 10:00 na www.alterart.pl
NEWS:
$UICIDEBOY$ ANNOUNCE GREY DAY UK AND EUROPE TOUR DATES IN 2023
NEW ORLEANS RAP DUO IN TOP 30
MOST-STREAMED ARTISTS
ACROSS ALL GENRES IN 2022
New Orleans rap duo $uicideboy$ announce that their highly-successful Grey Day Tour will be coming to Europe. G59 Records artists Germ, Shakewell, Chetta and US Grey Day Tour opener Ski
Mask The Slump God will be on the line-up as support acts. $uicideboy$ are having a stellar 2022 as the 27th most-streamed artist of the year across all genres with 1.9 Billion Total streams (as of October 18), according to HITS MAGAZINE, beating other rappers on the list including Jack Harlow, Tyler the Creator and Travis Scott. Additionally, their 2022 single "Matte Black" is at the top spot of Spotify's US Top Group's of 2022 playlist, a collection of the most-streamed artists on the platform this year. The tour announcement comes alongside a final release of their three-part collaborative EP with Germ DIRTIESTNASTIEST$UICIDE, a 7-song collection of all new music produced entirely by $uicideboy$ member $crim. EP lead single "My Swisher Sweet, But My Sig Sauer" already combined for 5 Million cumulative streams since its debut on December 2. The song was selected for New Music Friday playlist picks by Alternative Press and HipHopDX. The group's previous album Sing Me a Lullaby, My Sweet Temptation (July 2022) debuted at #1 on Billboard's Top Rap Albums chart, #2 on the Top R&B/Hip-Hop Albums chart and #7 on the all-genre Billboard 200. The full-length project was streamed over 100 million times week of release and led to their first #1 on the Rap Albums chart, highest charting debut on the Top R&B/Hip-Hop Albums and tied previous album 2021's Long Term Effects of Suffering chart debut on the Billboard 200. Alternative Press declared the "sun won't stop shining" on the New Orleans rap duo and that the new music is a "renewal of spirit and promise."
TERMS AND CONDITIONS, DECLARATIONS
ACCREDITATIONS
Media interested in receiving an accreditation for Dry Cleaning are asked to fill the application form.
Applications will be accepted until March 20, 2023.
The information about granted accreditations will be sent from March 20 until March 22, 2023.